Good to know
Transports en commun

Avec la mise en place de la métropole Aix- Marseille-Provence, le service de transport en commun évolue. Découvrez le nouveau pass mobilité Métropolitain, en cliquant ici.

Le département s'engage pour l'emploi des jeunes

Votre enfant entre en 3e à la rentrée ? Découvrez les actions mises en place par le département pour l'aider à trouver un stage.

Impossibilité d'accès à la médiathèque

Afin de finaliser les travaux des abords de la médiathèque, la réalisation du béton désactivé nécessite une fermeture au public du site. L'accès à la médiathèque sera donc impossible le 29 août 2018. Veuillez nous excuser pour la gêne occasionnée.

Accès aux Massifs

Le code couleurs sur la carte d'accès aux massifs forestiers des Bouches-du-Rhône change : 4 niveaux de couleurs – vert, jaune, orange, rouge – servent dorénavant d'indicateurs de risque qui déterminent l'accessibilité aux massifs.

Permanence du service urbanisme

Le service urbanisme assure l'accueil du public du mardi au jeudi de 8H30 à 12H et sur RDV le mercredi matin. En revanche, le service est fermé au public tous les lundis et vendredis et tous les après-midis (appels téléphoniques compris, sauf lundi matin).
Focus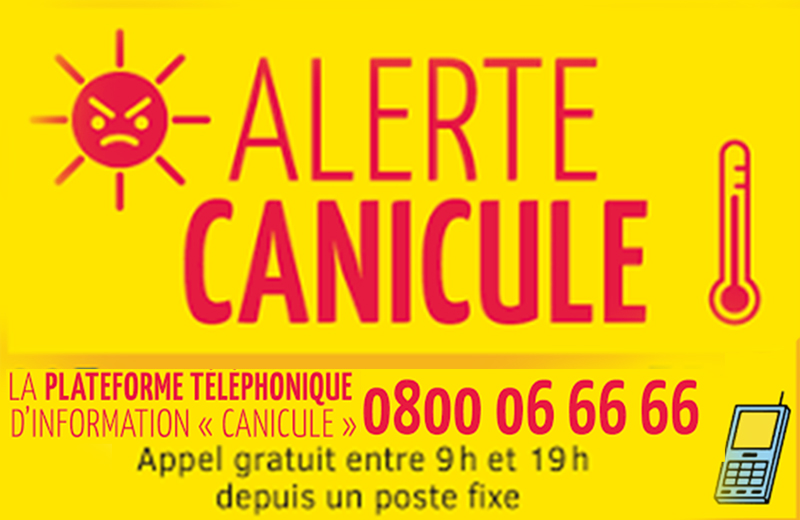 Le Plan Canicule, mis en place du 1er juin au 15 septembre 2018, est destiné à prévenir et à lutter contre les conséquences sanitaires d'une canicule.

Nous vous informons sur les recommandations, les niveaux d'alerte et la carte de vigilance de météo France. Nous mettons à votre disposition l'instruction interministérielle relative au plan canicule 2018 et le plan national canicule 2018.
Les origines de Mallemort en images
Découvrez l'origine du nom de la commune à travers un court-métrage spécialement conçu pour la commune et diffusé lors de la cérémonie des voeux à la population 2017. 
Security around schools establishments
Security around primary and secondary schools :
High level of vigilance is maintained through our department. School ministry asks everyone to read carefully safety instructions and to respect it in order to increase security level inside our establishments.